Homegrown Excellence in Education
March 24, 2023
By Melissa Johns, Executive Director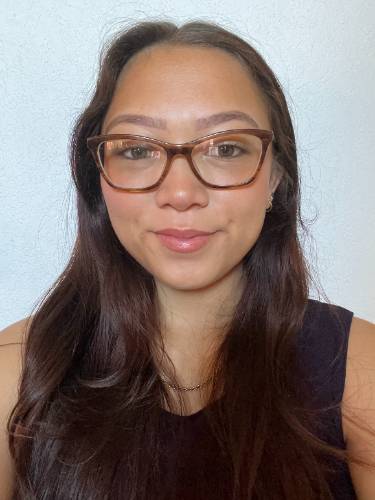 Since she was a teen, Kiely Combs has known she wanted to major in education. After earning her Associates Degree in Early Childhood Education from West Valley College, she is well on her way to fulfilling that dream.
Hands-on experience in teaching
When Kiely reflects on her two years at West Valley College, she gushes about her professors and the hands-on learning opportunities she gained by working in the Early Childhood Education Center. Her courses taught by professors Lorrie Dobson and Anne Horgan were especially memorable for Kiely, who loved how she and her peers were given full creative control over developing their own curriculum and classroom activities.
"I got to design the entire lesson and share it with the preschoolers and my peers. I surprised myself with how creative my lesson was. My theme was 'socks and shoes' so my activities included matching socks, creating sock puppets, and even painting the bottom of their shoes for a lesson in pattern recognition."
Kiely recalls the iterative curriculum development process and the support she had from her professors. "First I started with a theme of socks, and professor Dobson said it might be too limiting." A few tweaks later and Kiely had developed a fantastic lesson, full of engaging, age-appropriate content. "The kids thought it was so fun because they got to take off their socks and shoes. As their teacher that day, I loved seeing how proud the children were to figure out the challenges."
Affording the Bay Area as a teacher
Kiely would love to live and teach in the Bay Area one day but recognizes the high cost of living can be a challenge on a teacher's salary. It's one of the reasons Kiely remains grateful for the affordable education she received at West Valley College. "I'm in a good place financially because getting the West Valley College Promise Grant made my first two years of college free. A lot of my friends from high school have told me how much debt they racked up in their first two years at four-year schools. I'm in a completely different position." Between the money she earns working part-time and the scholarships Kiely received, including the Sisters of the Holy Family Endowed Scholarship, she is expecting to graduate from CSU Monterey Bay with little to no college debt.
A commitment to making a difference
As she completes her undergraduate degree, Kiely is exploring a variety of ways to make a difference as an educator. From classroom teaching to educational policy reform, Kiely's passion is inspiring and her ideas seem limitless. Her future students can expect to have a teacher who will go above and beyond to make a positive impact in their lives, and a very lucky Bay Area school will be thrilled that this homegrown mega talent is a member of their faculty.