Unstoppable Mission Graduate Thrives at UC Berkeley
February 01, 2023
By Melissa Johns, Executive Director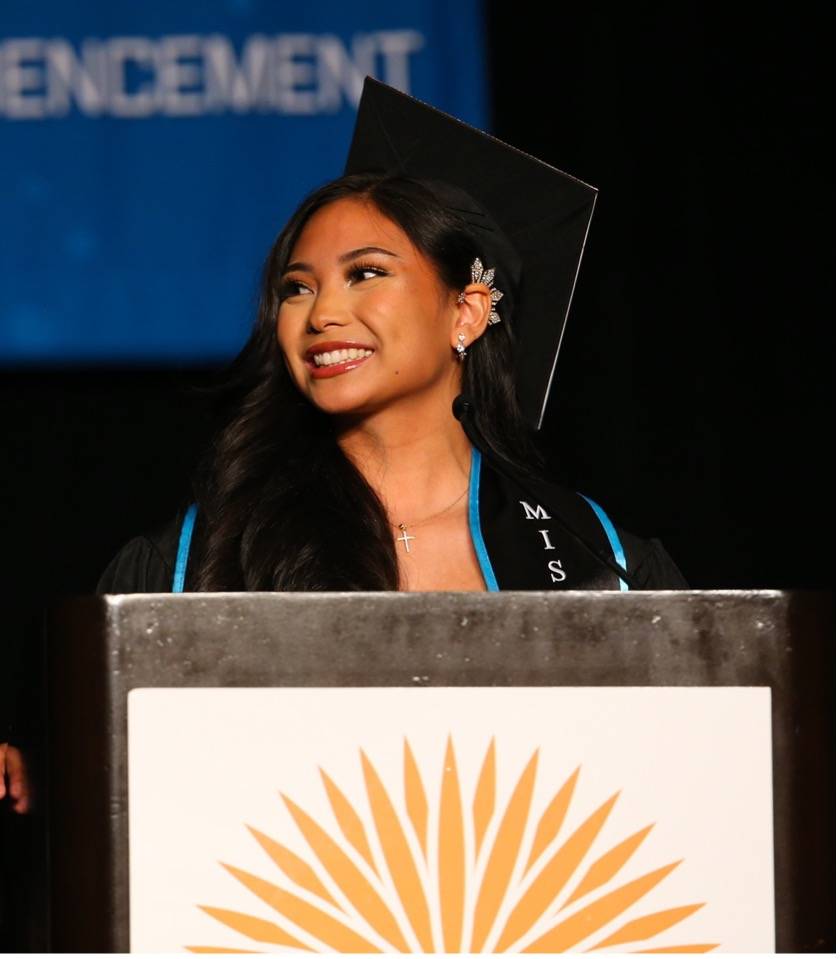 Throughout her time at Independence High School in San Jose, Eizen worked hard to shape herself into the perfect college applicant. She took AP classes, earned good grades, participated in a wide range of extracurricular programs, was president of the Pre-Med Club, danced all four years on the cheerleading squad, held part-time jobs at retail stores and after-school programs and challenged herself to meet her own high standards – and still, she didn't get an acceptance letter from her dream school, UC Berkeley.
Turning Setback into Opportunity
If anyone thought that setback was going to hold her back, they don't know Eizen. She radiates positivity and determination, which is even more impressive when you know what she's been through.
Eizen was a baby when she and her mom immigrated to the United States from their native Philippines. When Eizen was just five years old, a debilitating stroke left her mother partially paralyzed. As the eldest child, Eizen had to grow up quickly. By the time she turned seven, she was doing the bulk of the household chores while her dad worked to provide for their family.
Eizen recalls, "I had so much responsibility growing up. It was rough. Throughout my mom's hospitalization and rehabilitation, not only was I doing all the housework, I was taking care of my sister and helping my parents navigate systems that posed a language barrier. As their primary translator, I was the one helping them with paperwork, taxes, bills, all that stuff. I was probably way too young to do all that, but that's how it was."
With so much on her plate at home, Eizen saw school as her escape. She poured herself into her academics and developed a passion for dance and choreography. As she danced her way through school, she dreamed of becoming the first person in her family to go to college. Shaped by her mother's experience, Eizen imagined pursuing a career in healthcare. From a young age, Eizen says, "My dream was to go to the world-renowned UC Berkeley."
When she received the bad news from UC Berkeley's Office of Admissions, Eizen remembers feeling full of what she calls "serious doubts" about her future. Yet rather than give up on her dream, she took stock of her options and made the decision to attend Mission College with the goal of one day transferring. Eizen now considers this to be one of the best decisions of her life.
Just like she did in high school, Eizen poured herself into making the most of her academic experience, and Mission College embraced her at every turn. "In my first year at Mission, I began to believe in my dream again. I was taking my GEs and nursing requirements at the same time and the professors were outstanding." Eizen also jumped into a leadership role as President of Associated Student Government (ASG), where she developed leadership skills as part of a motivated group of students who were working together and alongside administrators to make a positive impact at Mission College.
When it Clicked
It was her Mission College counselor, Chau Nguyen, who helped create some clarity around Eizen's plans for the future. "She told me, 'You have the skills to be a leader and the passion for nursing and healthcare. I think you would be a great fit in healthcare administration. And guess what? UC Berkeley has that major!'" Eizen says that's when it all clicked.
Today, Eizen is thriving at UC Berkeley and is applying for summer internships in healthcare. Because she received the Mission Promise scholarship, her two years at Mission were free. Between financial aid, a transfer scholarship from UC Berkeley, and several other private scholarships, she estimates that she will graduate from UC Berkeley with her bachelor's degree completely debt-free as well. It's not lost on Eizen that if she had attended UC Berkeley straight out of high school, she would undoubtedly be saddled with debt.
Without the burden of student loans looming, Eizen is free to focus on the present, soaking up every minute while living her dream as a Cal Bear. She doesn't yet know if she will pursue nursing after college or try out a job in healthcare administration. Either way, one thing is certain: she can keep dreaming big. Because thanks to her hard work, her perseverance, and her positive Mission College experience, Eizen can check "received a world-renowned education" off her bucket list.