From student worker to full-time information technology technician
June 01, 2023
By Nicole Aguinaldo, Program Director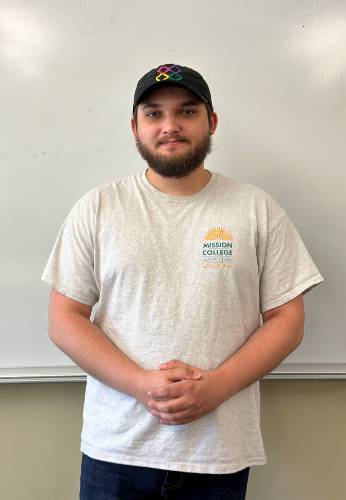 Parker Holley's journey from high school to Mission College, and eventually landing a full-time job as an information technology technician at West Valley-Mission Community College District (WVMCCD), is an inspiring testament to the transformative power of education and the support of a nurturing community. Let's dive into Parker's story and discover how his time at Mission College shaped him into a dynamic information technology technician.
A Welcoming Community
Parker's pursuit of higher education began at Mission College, driven by his desire to overcome financial limitations and the stigma associated with community college education. Despite initial concerns, he remained determined to prove that quality education can be found right here in his own community.
From his first day on campus, Parker felt a sense of warmth and acceptance at Mission College. He was nervous about the transition from high school to college but the caring and approachable professors, as well as the supportive staff, provided him with a supportive environment that alleviated his fears and allowed him to focus on his academic journey.
Reflecting on his transition into college, Parker expressed gratitude, saying, "Mission College helped ease that transition. They went above and beyond to support me because they genuinely wanted me to succeed."
Accessible Education
One of the many advantages of Mission College was its affordability, which played a crucial role in Parker's decision to enroll in community college. He recognized that pursuing a four-year college education would place a heavier financial burden on him. Financial aid and a scholarship, along with earnings from his part-time student worker job, gave Parker the support he needed to afford college. Mission College's commitment to providing accessible education allowed him to focus on his studies without unnecessary financial stress.
Mentoring and Support
Parker's transformative experience at Mission College extended beyond the classroom. As a student worker in the Education Technology Services (ETS) department, he found himself immersed in a community of support and growth. Working alongside professionals like his manager Robert Guest, Parker was given independence and encouraged to explore his potential. The hands-on experience and the trust placed in him by his supervisor empowered Parker to develop the skills needed to excel in the field of information technology. "Robert gave me a lot of independence to solve problems on my own. I was given the opportunity to self-improve, which helped me work my way up to a full-time position at WVMCCD," Parker said.
The student workers in the ETS department formed an invaluable support system for Parker. He admired the more experienced student workers who served as mentors and readily offered assistance and guidance. Over time, Parker's own growth allowed him to reciprocate this support, as he became the go-to person for others seeking advice and help. The camaraderie and knowledge sharing within this close-knit community were instrumental in Parker's personal and professional development.
A Launchpad for Success
Armed with his Associates Degree in Computer Information Systems, Parker embarked on the next phase of his journey. His time as a student worker in ETS helped him excel in interviews. He secured a position as an information technology technician at West Valley-Mission Community College District, impressing the hiring manager with his practical experience and passion for the field. Parker's success story stands as a testament to the value of hands-on learning and the impact it can have on one's career trajectory.
Empowering Others
Parker's passion for his work is evident through his dedication to helping colleagues navigate the complexities of technology. He enjoys finding innovative solutions to their challenges, making their jobs easier and more productive. By leveraging technology, Parker empowers his colleagues to reach their professional goals and contributes to the overall success of the institution.